What's new in PaintCode 3.2
Android
Generated Android code now extensively uses caching to minimize new object allocations.
Touch Bar
Added support for Touch Bar on the new MacBook Pros.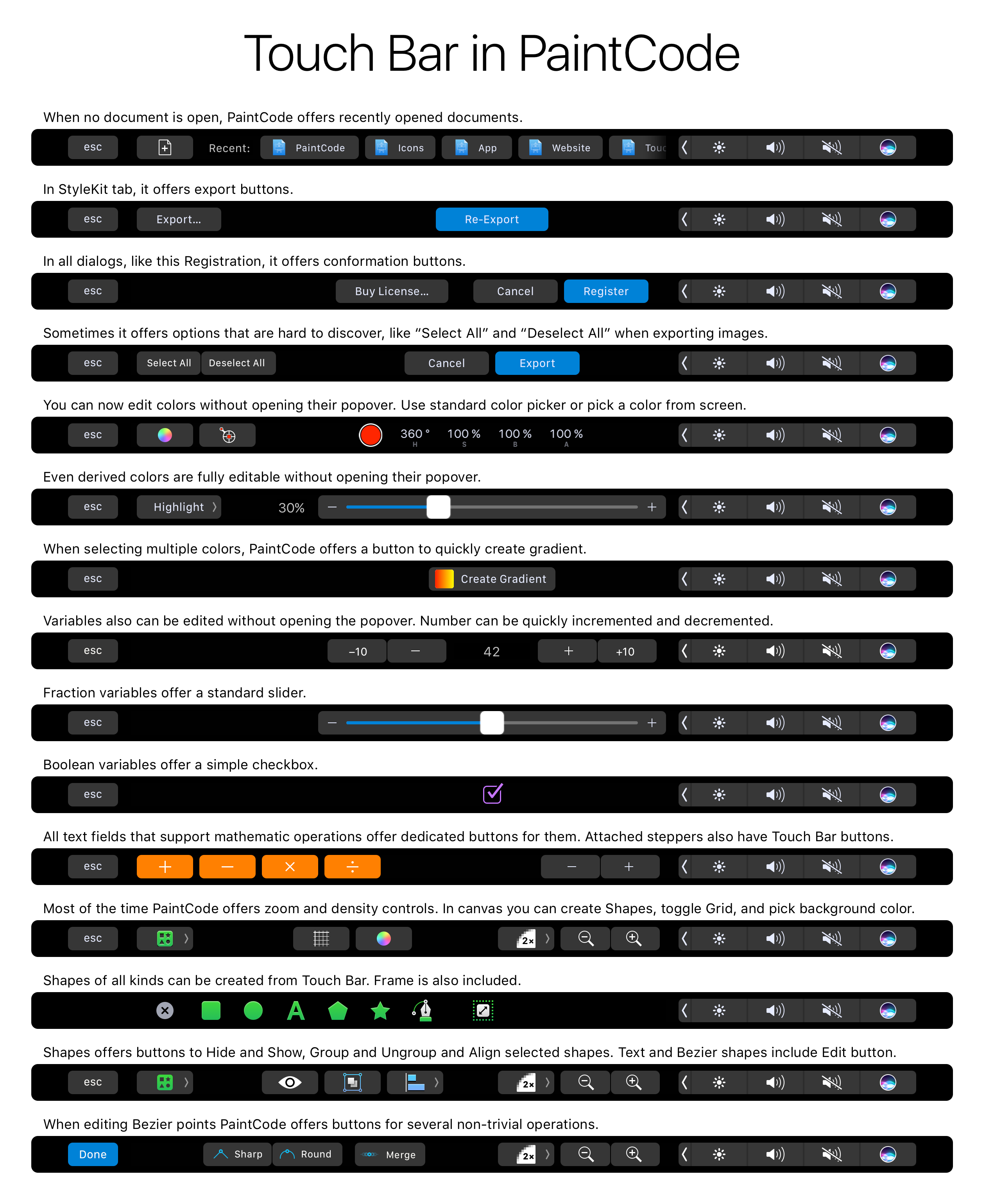 Touch Bar allows you to:
Create new or open recent documents.
Quickly access most used menu options and dialog buttons.
Edit Colors and Variables without opening their popovers.
Insert math operators into text fields.
Create new Canvases, Shapes, Groups, and Frames.
Change zoom level and screen density.
Hide and Show selected Shapes and Groups.
Align selected Shapes vertically or horizontally.
Perform advanced operations on edited bezier points.
sRGB
PaintCode 3.2 now uses sRGB color space as working space for all targets.
On macOS target, your colors will be converted, so their appearance is preserved, but values of RGB components may change.
Colors on all other targets (iOS, Web, Android) are without change, but their rendering was improved.
Documents saved using this version of PaintCode cannot be opened using older versions.
Improved color accuracy on screens with wide gamut, like Display P3.
Minor Features
Support for all weights of iOS and macOS system font: UltraLight, Thin, Light, Regular, Medium, Semibold, Bold, Heavy, Black.
Full support for multiple StyleKits in your Swift, Objective-C, and C# projects.
Allow comma as decimal separator in text field math expressions.
Support for importing Apple Color Lists (a.k.a. NSColorList).
Fixed Bugs
Fix color handling of imported images.
SVG viewport is now taken into account during importing.
Improved QuickLook preview accuracy for transparent gradients.
Improved import of some gradients from PDF.